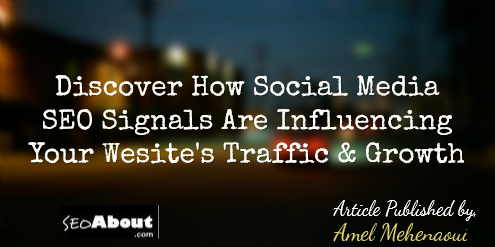 Social Signals as a Search Ranking Factor for SEO
Weather or not Google is using Social Signals in Ranking pages now or not, it does not mean that they will not do it in the near future since they already have a patents published that explain how they would use Social Media and SEO together to rank websites.
Google Inc. Patent published in Jul 23, 2013 explain how the Search Engine Algorithm are "Filtering Social Search Results" and using Social Signals to rank results on SERPs.
From the Detailed Description of this patent Google explain that: the "Aspects of this specification are directed to filtering search results based on social signals. In some examples, search results can be filtered based on a user's social graph."
Here a part that I find very interesting in this patent: "The system indexes identified social graph information for use in information retrieval (208). For example, the index can be searched in response to a received search query to identify relevant search results associated with members of the user's social graph."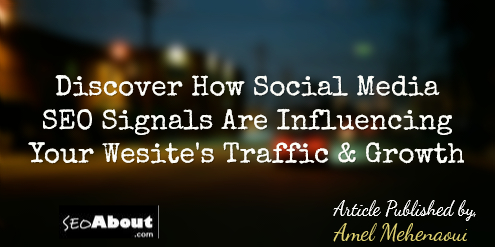 Apparently all social media activities are complied into our social graph. So based on the above here is what I think is the most important part of this patent and that can answer our question "Are Social Media activities affecting our Search Engine Rankings". It says:
"The system receives search results including search results associated with the user's social graph (304). For example, when the search query is received by a search engine, the search engine identifies resources that are responsive to the search query using an index. The search engine will generally include an indexing engine that indexes resources (e.g., web pages, images, or news articles on the Internet) found in a corpus (e.g., a collection or repository of content), an index database that stores the index information, and a ranking engine (or other software) to rank the resources that match the query.
The indexing and ranking of the resources can be performed using conventional techniques. The social graph information can in be included in a same index as other resources or a separate index."
A little farther Google expand on Social Signals and SEO as Ranking factors by stating: "In some implementations, the presentation and ranking of search results associated with the user's social graph is adjusted by one or more factors including one or more social signals. For example, affinity can be used to determine whether to show content from a particular member of the user's social graph or whether to promote or demote the member's ranking"
Now, Google is adding a new SEO factor called "Affinity", which Google define as:
"Affinity identifies the closeness of a member to the user. For example, a friend of a friend who has five common middle friends with the user has a higher affinity than a friend of a friend who has only one common middle friend."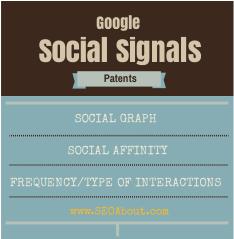 And define it also as: "Affinity can also be based on the user's interactions with members of the social graph (e.g., frequency, type). For example, a user that frequently
clicks on posts by a particular contact can have a higher affinity with that contact than the affinity with other contacts where they click on respective posts less frequently."
"Affinity can also be greater for particular types of interactions, for example, comments on contact's posts can result in higher affinity than occasional endorsements. Affinity can change over time. For example, as the types or frequency of interactions change with members of the social graph, the resulting affinity can change as well."
Here is where it gets more interesting…Google definition of Social Signals and their affect on Rankings:
"In some implementations, users indicate particular resources as endorsed (e.g., staring a search result or providing an indication at the resource), share resources, quote URLs or otherwise indicate and interest or liking of content, for example, a particular resource, web page, or search result. For example, an application, widget, or scripting can be provided in search results pages, web pages, or within a browser application that allows a user to indicate liking, sharing, or other evaluation of the associated resource or search result. For example, the user can mark a particular resource, web site, or search results to indicate endorsement or other evaluation (e.g., though a browser control or user interface element presented with the associated content).
These interactions performed by members of the user's social graph can be used as social signals to adjust rankings of corresponding search results."
Yaooh Inc. Patent published in Sep 7, 2012 that actually explain how a Search Engine can apply Search Engine Optimization Recommendations Based on Social Signals, which "includes a method of increasing search engine optimization (SEO) performance of a social media website of an entity. The method includes obtaining SEO data from a webpage of the entity and obtaining SEO data from the social media webpage of the entity.
The method further includes generating a report based on the SEO data from the webpage and SEO data from the social media webpage that indicates a level of the search engine optimization performance of the social media webpage of the entity."
And here is another Yaooh Inc. patent published Mar 1, 2012 about a Method of Recommending Content Via Social Signals.
Takeaways:
From all the above Search Engines patents we cound easily conclude that all our interactions (shares, resahres, likes, +1, comments etc.), our degree of connection with Influencers and frequency of interraction with them and them with us and mainly the type of our interaction with them are wighted at different scales and play a significant role as social media and SEO ranking factors in Search Engines algorithms.