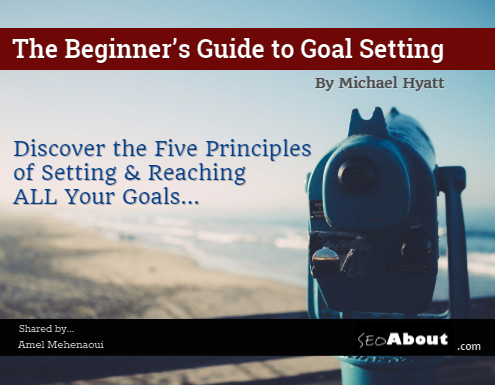 The Beginner's Guide to Goal Setting By Michael Hyatt
Are You Sick and Tired of not Reaching Your Goals?

If you're like a lot of people who cares about goal setting, you've probably wondered how you could set goals and reach them without efforts and stress. Maybe you've even wondered why some of your close friends can easily reach their goals and not you (what's their secret?).
Truth is, there's a lot of information floating around online about goal setting.
That's why I've rolled up my sleeves and uncovered all the latest details about setting goals the easy way. And what I discovered is that there are two fundamental elements to understand and master in order to become good at setting and reaching your goals.
Surprised?
Then you'll be even more surprised when you discover what one of the top virtual mentor, Michael Hyatt has to say about setting goals.
Indeed, Michael Hyatt share with us five powerful principles that represent a strong foundation for creating your goal setting plan and that Michael himself follows in his own practice.
Here is the part of his Beginner's Guide to Goal Setting that really resonated with me:
Psychologists tell us that people who make consistent progress toward meaningful goals live happier more satisfied lives than those who don't. Curated fromThe Beginner's Guide to Goal Setting
Well, I don't know about you… but I do know that one of my main goal in life is to live a happier more satisfied life!
So here are Michael's five key elements that can help you reach your goals:
1. Keep them few in number.
2. Make them "smart." It's all about understanding how to create a SMART Goal!
3. Write them down. This is critical.
4. Review them frequently.
5. Share them selectively.
Michael Hyatt, goes into more details about each of the item above (with examples and his personal tips) so I encourage you to read his guide to goal setting to learn all his secrets!
I was surprise by the 5th concept. My previous understanding of Goal Setting was to make a public statement and say out loud what you're exactly aiming for. Well, I was kind of wrong according to Michael's guide.  It's time for me to start implementing number 4 and 5 concepts from the above list. What about you?
Do You Want to Finish the Year Strong?
Watch this Goal Setting video [opens in new window]  to discover 9 key principal to finish the year strong. You ill also get free training guides and a detailed Report. 
See Gary Ryan Blair, also know as the GoalsGuy, just opened enrollment for The 100 Day Challenge, a hardcore goal setting program that shows you how to get more done in the last 100 days of the year than most people do over the course of 10 years.
I had the chance to take this challenge last year myself. It made me more focused on getting things done with the help of the 100 Day Challenge iphone app that came with it. So I do encourage you to join the 100 Day Challenge if you want to reach your personal or professional goals.
Learn What Wikipedia Can Teach us About Goal Setting?
During my research about setting goal, I came across a detailed page on Wikipedia and I was very impressed by the detailed information on that page. In there, you'll discover some new concept that will definitely make you rethink how you go about setting your goals.  In fact…
Studies by Edwin A. Locke and his colleagues have shown that more specific and ambitious goals lead to more performance improvement than easy or general goals. As long as the person accepts the goal, has the ability to attain it, and does not have conflicting goals, there is a positive linear relationship between goal difficulty and task performance.[2] Curated fromGoal setting – Wikipedia, the free encyclopedia
Here is a very interesting video Podcast by Michael Hyatt where Michael refer to what he called the "Push Goal" concept. This concept prove in a way Edwin A. Locke and his colleagues studies results.
I encourage you to watch this Video Podcast to learn more about Michael Hyatt Goal Setting for Beginners.

Now let's take our understanding of Wikipedia's Goal Setting definition one step further… and for that we need to clarify what is:
Honing goal setting using temporal motivation theory

Locke and Latham (2004) note that goal setting theory lacks "the issue of time perspective".[13] Taking this into consideration, Steel and Konig (2006) utilize their temporal motivation theory (TMT) to account for goal setting's effects, and suggest new hypotheses regarding a pair of its moderators: goal difficulty and proximity.[14]

The effectiveness of goal setting can be explained by two aspects of TMT: the principle of diminishing returns and temporal discounting.[14]

Similar to the expression "the sum of the parts can be greater than the whole", a division of a project into several, immediate, subgoals appears to take advantage of these two elements.[14]
In other simplified words…this theory emphasizes time as a critical, motivational factor that can ignite our actions toward reaching our goals.
Obviously, if we want to make sense of the above theory (which we do) in more details, we have to start by understanding the diminishing returns and the temporal discounting principle.
Let's start with the diminishing returns principle:
To understand this principle we first need to understand that in economics this principle refer to
the decrease in the marginal (incremental) output of a production process as the amount of a single factor of production is incrementally increased, while the amounts of all other factors of production stay constant.
Well, in other words this means that adding to much tasks to your workload doesn't make you productive after-all and it may not help you reach your ultimate goal at all.
Because it was proved by the law of diminishing returns that:
in all productive processes, adding more of one factor of production, while holding all others constant, will at some point yield lower incremental per-unit returns.
Here is an example that can make you understand this principal:
the use of fertilizer improves crop production on farms and in gardens; but at some point, adding increasingly more fertilizer improves the yield by less per unit of fertilizer, and excessive quantities can even reduce the yield.
Goal Setting Tip 1: Well, keep your To Do List short and do not add to much task on it if you really want to reach your goals. Work on small chunk of tasks at a time.
Now, we have to understand the Temporal Discounting Principle:
In this principle it seems that we give higher value to rewards that we can get "now" and tendency to discount rewards as they get far away from us in the future.
Here is an example that explains it in a very simplistic way:
Offered a choice of $100 today and $100 in one month, individuals will most likely choose the $100 now. However, should the question change to having $100 today, or $1,000 in one month, individuals will most likely choose the $1,000 in one month. The $100 can be conceptualized as a Smaller Sooner Reward (SSR), and the $1,000 can be conceptualized as a Larger Later Reward (LLR).
Goal Setting Tip 2: So the idea here is to make sure that when setting a goal, you have to make sure that the deadline is not too far in the future or you'll get discouraged and may not feel the urge to reach it.
Here is what I consider the main takeaway of the Wikipedia Article:
Framing, or how goals are viewed, influences performance. When one feels threatened and or intimidated by a high goal they perform poorer than those who view the goal as a challenge.[2] The framing of a goal as a gain or a loss influences one's eventual performance.
Finally, let me share one important goal setting tip that Michael Hyatt advice us to do:
If you don't have written goals, let me encourage you to make an appointment on your calendar to work on them. You can get a rough draft done in as little as an hour or two. Few things in life pay such rich dividends for such a modest investment.
Remember, if you keep doing what you're doing, you'll get the same result. That's why each moment you hesitate… is another moment you'll struggle with your goal setting task. So click here to get started with The 100 Day Challenge – because you deserve to be successful…
Who's who?
Michael Hyatt is the founder and CEO of Intentional Leadership, an online leadership development company. We help overwhelmed high achievers get the clarity, confidence, and tools they need to win at work and succeed at life.
Edwin A. Locke began to examine goal setting in the mid-1960s and continued researching goal setting for over thirty years.[2][4][5] Locke derived the idea for goal-setting from Aristotle's form of final causality. Aristotle speculated that purpose can cause action; thus, Locke began researching the impact goals have on human activity.
Disclosure of Material Connection: Some of the links in the post above are "affiliate links." This means if you click on the link and purchase the item, I will receive an affiliate commission. Regardless, I only recommend products or services I use personally and believe will add value to my readers. I am disclosing this in accordance with the Federal Trade Commission's 16 CFR, Part 255: "Guides Concerning the Use of Endorsements and Testimonials in Advertising."